Move Your Body
Online Coaching & Membership Program
The Move Your Body Coaching Program is a monthly membership for busy women who want to get strong, feel great in their bodies and improve their relationship with food. No matter your age or fitness level, now is the perfect time to make strength training and sustainable nutrition a part of your life.
Do you want to spend less time working out while eating the foods you love?
Are you sick of yo-yo diets + eating and drinking your feelings?
Do you want to lose fat and keep it off, while moving and feeling better in your body than you EVER HAVE?
Do you want to learn how to eliminate pain and engage your deep abdominal muscles to feel stronger and more resilient in day to day life?
Are you ready for a sustainable way of exercising + eating that can work for life?
If you answered yes to any of these questions then the Move Your Body Coaching Group is for you!
Why Move Your Body?
Let me explain why I'm so passionate about sharing my ever-evolving interpretation of strength training and my progress not perfection approach to eating for life. 
BECAUSE I 100% BELIEVE THAT THIS IS EXACTLY WHAT WOMEN NEED.
I used to use exercise as my outlet. I'd run to escape my thoughts and things that weren't going well in my life. I used dieting as a form of control and then I'd binge and stuff the feelings down deep, punishing myself. Until my body broke down. For the last 12 years I have strength trained to CHECK-IN with my body. I have eaten to TAKE CARE of my body. After having two kids my body felt broken.
Ultimately I've established a stronger foundation by learning and emphasizing the importance of breathing properly. I focus IN on which muscles are working and HOW the exercises FEEL in my body. I have worked hard gaining awareness of how foods make me feel and how to eat in a way that best serves me at any given point in my life. 
I AM SURE OF A FEW THINGS:
I no longer exercise "just to exercise".
I also don't coach that way.
I will NEVER follow another diet, or encourage another woman to either.
I don't exercise to be so sore in one small muscle that I can't walk. I don't write programs like that either.
I don't focus on the end result of aesthetics or weight.  
That shit feels mindless, PAINFUL and unintentional. No thank you.
Instead I have chosen to teach my clients to establish habits that when practiced consistently get them results and encourage them to enjoy the journey.
Here is my reminder to you that strength training + nutrition… can feel really fucking awesome when it's thoughtful.
JOIN THE COMMUNITY // $47 per month
THIS IS WHAT YOU GET WHEN YOU JOIN
THE MOVE YOUR BODY MONTHLY MEMBERSHIP COMMUNITY:

 
A private membership portal where your workout videos, nutrition information, and recipes are easily accessible in a clear, easy to follow format and organized by month.
Access to a private Facebook group that comes with accountability + community support from AMAZING HUMAN BEINGS who are all experiencing the same fears, anxieties, uncertainties and stir-craziness as you.
All workouts are demonstrated and coached by Stacey, with modifications and progressions for all fitness levels.
All workouts can be completed with limited equipment in 30-45min.
Flexible Monthly movement calendar to adjust based on YOUR goals and time.
Simple Monthly recipes that take the guesswork out of "what's for dinner?"
Your Monthly Workouts Include:
Positional breathing warm-up
2 strength workouts (possible with limited equipment)
Access to donation based yoga, pilates and meditation classes from South Boston Yoga
The workouts and recipes change every month. 
As long as your membership is active, you'll have access to all of the workouts, recipes and other kick-ass information from prior months that will help you reach your goals.
JOIN THE COMMUNITY // $47 per month
See what other's in the community have to say!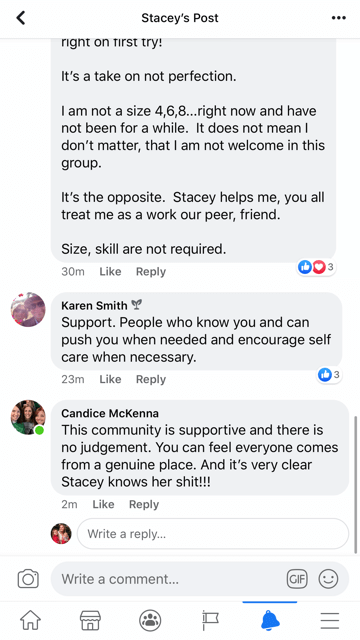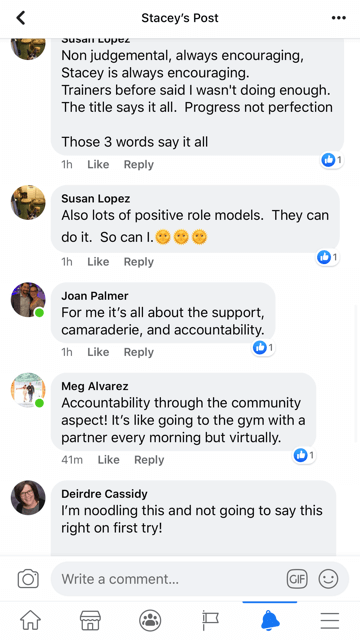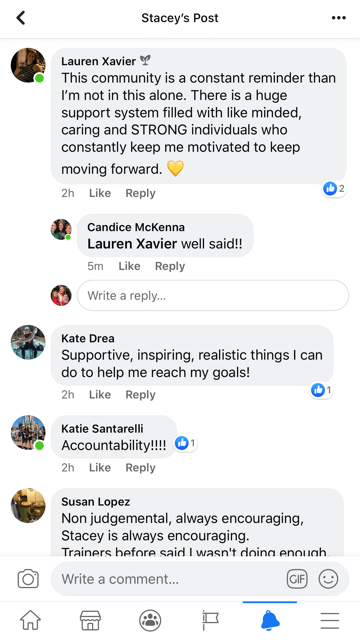 JOIN THE COMMUNITY // $47 per month
When you join, you'll be sent an email with your login details to the Move Your Body Membership portal and the link to join the private Facebook Group.
You'll have IMMEDIATE access to the workouts, recipes, trainings and more!
Your $47 monthly membership will automatically continue each month and you can cancel at any time.
The Move Your Body Coaching Group is where…
I teach you how to workout SMARTER + get better results. I combine cutting edge strength training methods with no bullshit nutrition principles and group support to help you find lasting results. Move Your Body is an online coaching community filled with like-minded, kind-hearted and STRONG women who will hold you accountable, ensure that you never feel alone, and lift you up when you need it most.
If you're looking for a kick-ass support system and craving some contact, then Move Your Body is for you.
JOIN THE COMMUNITY // $47 per month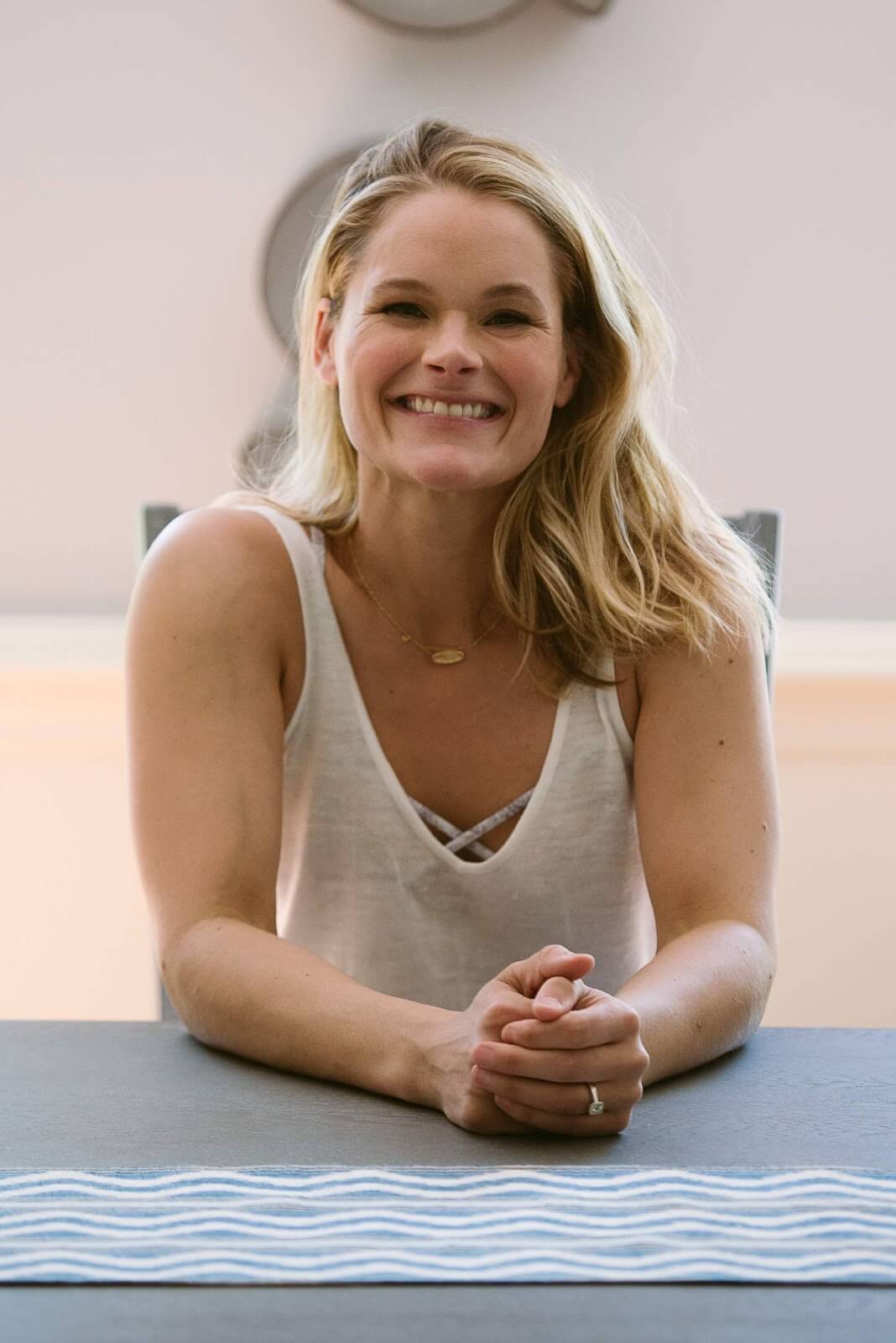 Hey there! I'm Stacey.
This photo is a rarity seeing as I'm rocking makeup, headband-less and wearing actual clothes. I am a personal trainer/ nutrition coach based in Boston + Andover. I am also a wife, mother, sister, daughter and friend. Helping women feel strong and capable in their minds + bodies for the long haul and allowing them to truly realize their potential, is my passion.
I am lucky to make a living doing what I love most and I will NEVER sacrifice my beliefs in order to do so. I practice what I preach and am open and honest about my struggles/challenges. I wake up most days, way before the sun rises and as a result you will most likely find me in bed by 8pm.
My obsessions with sneakers, coffee, handstands and hydrating myself are borderline obsessive. I crave nature + sun, and when I combine those with daily movement, I am my happiest self. In the past I have been extreme in my approach to exercise + nutrition and as a result have suffered greatly mentally + physically. I have had long love affairs with running, yoga, bodybuilding as well as kettlebells.
No amount of healthy eating, sleep, movement or stress reduction enables me to function fully with my depression; so I take medication, and I am more than okay with it. The fact that I get to help others with exercise and nutrition is a dream- come- true.
My progress not perfection approach to health is moderate (not hardcore) and I know that this is not for everyone. I don't want women to make the same mistakes or struggle like I have. We are all SO much more than our bodies and our outward appearance. Three years ago I had my first daughter Julia; and my second, little Eva, is almost a year old. I've experienced pregnancy, postpartum and had a taste of motherhood and I have LOTS to say about it all.
Have any questions about Move Your Body or how it can work for you? Email me stacey@staceyschaedler.com
 XOXO
Stacey