Move Your Body Membership
Workout at home with limited equipment so you can look better, feel better, and move better.
LOOK BETTER, FEEL BETTER, MOVE BETTER
The Move Your Body coaching program is a monthly membership for busy women who want to get strong, feel great in their bodies and improve their relationship with food. No matter your age or fitness level, now is the perfect time to make strength training and sustainable nutrition a part of your life.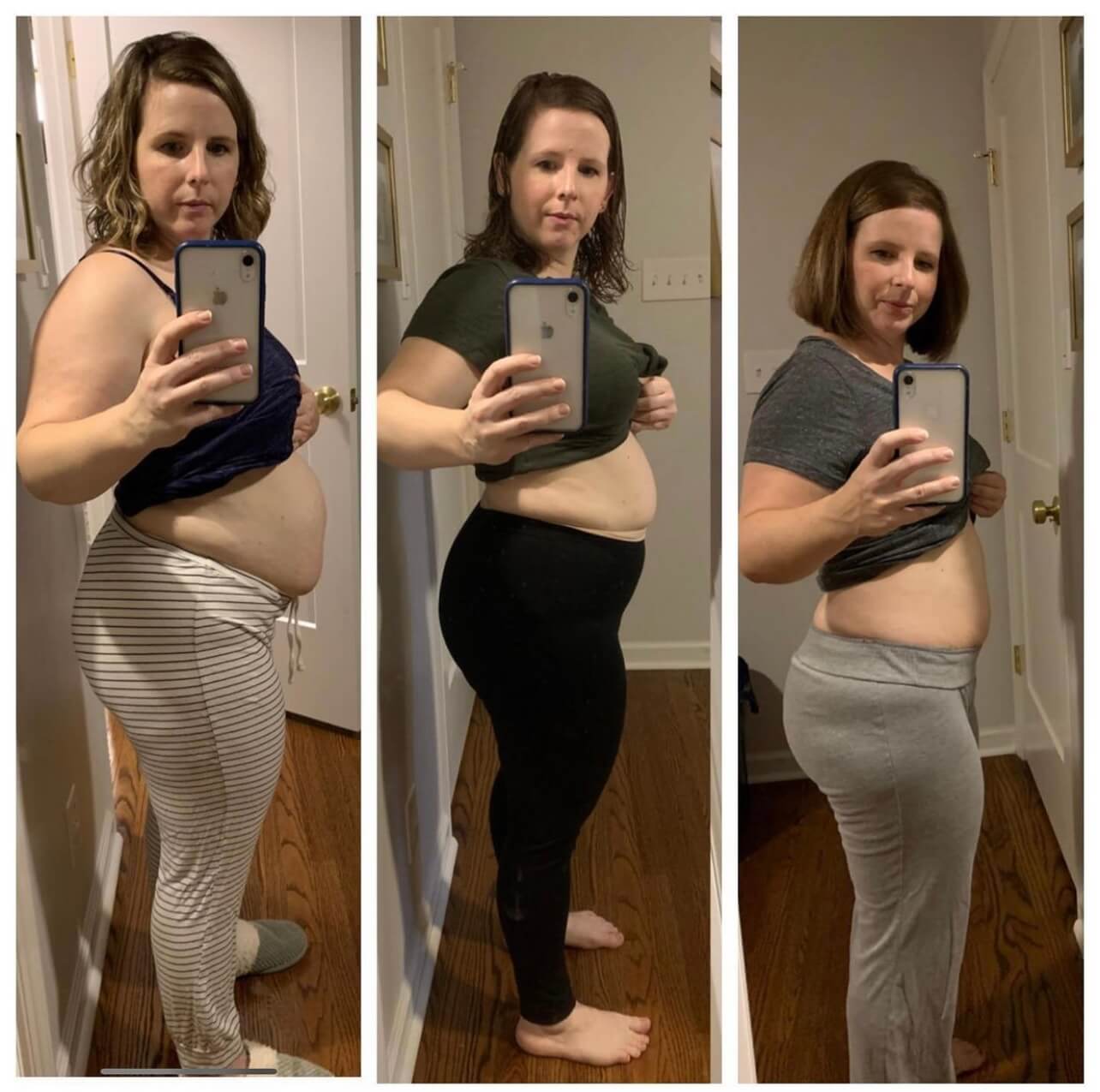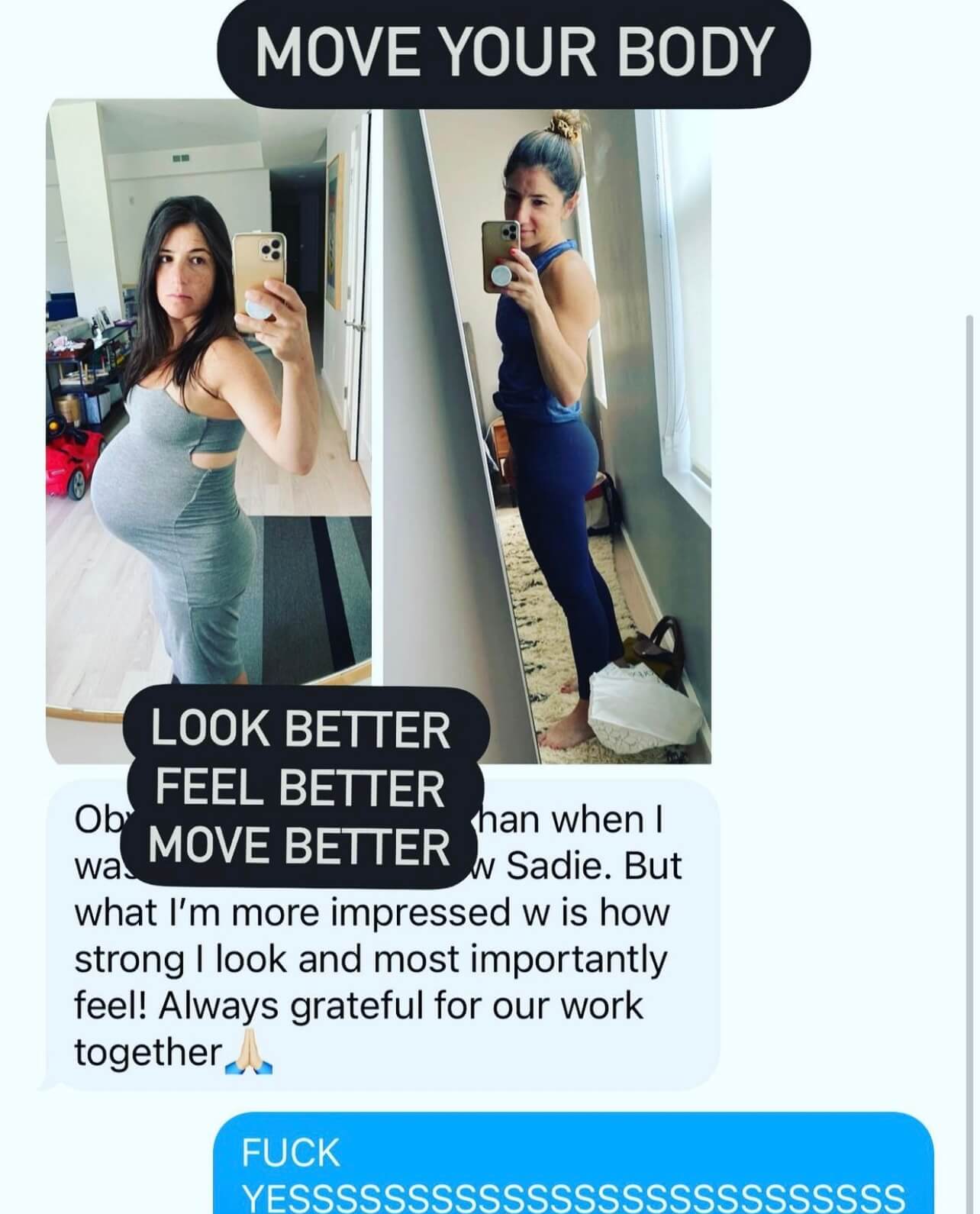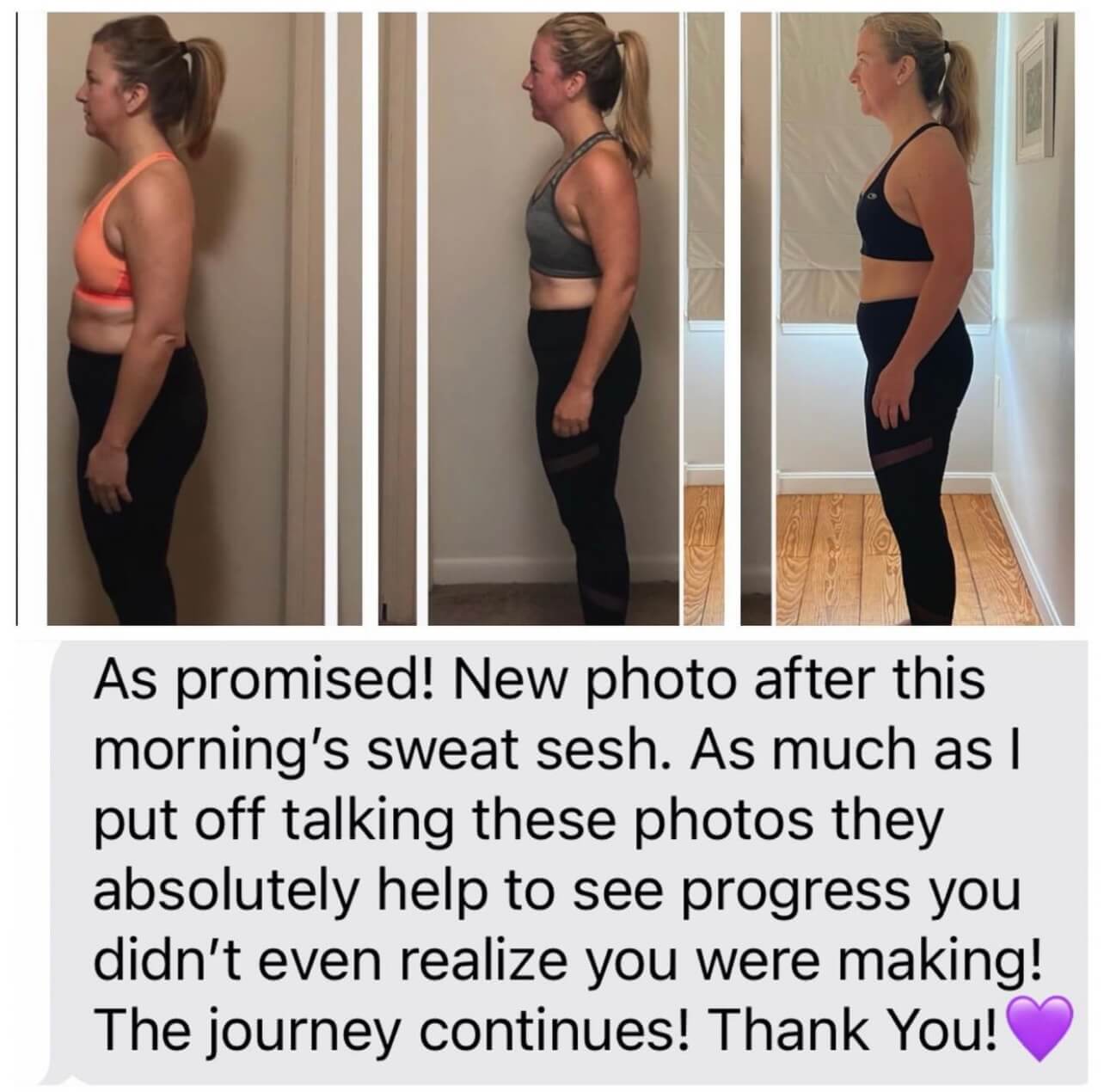 Workout LESS so you can start living MORE.
 Work out 3x per week using limited equipment, all without ever leaving your house.
Imagine this:
Spending less time working out and eating the foods you love.
Ending the yo-yo diet cycle and no more eating and drinking your feelings.
Losing fat and keeping it off, while moving and feeling better in your body than you EVER HAVE.
Eliminating pain and engaging your deep abdominal muscles to feel stronger and more resilient in day to day life.
A truly sustainable way of exercising + eating that can work for life.
Are you ready to prioritize YOU and make strength training & sustainable nutrition a part of your life?
THIS IS WHAT YOU GET WHEN YOU JOIN
THE MOVE YOUR BODY MONTHLY MEMBERSHIP COMMUNITY:

 
A private membership portal where your workout videos, nutrition information, and recipes are easily accessible in a clear, progressive, easy to follow format and organized by month so you can connect to your core, eliminate pain, get strong AF.
Access to a private Facebook group so you can connect with like minded women for daily accountability, form feedback on exercises. check in's + community support from AMAZING HUMAN BEINGS who are all experiencing the same struggles as you.
All workouts + videos are demonstrated and coached by Stacey, with modifications and progressions for all fitness levels. Monthly Zoom calls with Stacey so you can connect with like minded women, get your questions answered also experience coaching in real time with Stacey.
All workouts can be completed with limited equipment in 30-45min, so you can get on with your life!
Flexible Monthly movement calendar to adjust based on YOUR goals and time.
Simple Monthly recipes that take the guesswork out of "what's for dinner?"
The workouts and recipes change every month.
As long as your membership is active, you'll have access to all of the workouts, recipes and other kick-ass information from prior months so you can reach your goals.
 Move Your Body is open currently closed for enrollment.
Join the waitlist to get notified of when enrollment re-opens.
If you're happy to show up on your own and get it done with videos and plans for guidance, the DIY membership will be great for you. If you prefer more accountability and enjoy showing up with a group of women then the Live Class Membership is your jam. If you want a customized plan based on your body, abilities, and injuries, then apply for small group training.
DIY MEMBERSHIP
Self guided workout plans, including Smart Strength, Smart Strength 2.0, Fast Fitness, and MILF

 'Move Your Body' Facebook group

 Move Your Body membership portal with workout videos, recipes etc that change each month

Monthly Live Zoom call

Tutorial Videos

Recipes and Nutrition Advice

Library of Zoom recordings
LIVE CLASS MEMBERSHIP
2 LIVE workouts per week (Wednesday 7AM and Fridays 8AM)

Self guided workout plans, including Smart Strength, Smart Strength 2.0, Fast Fitness, and MILF

Progress not Perfection Nutrition Challenge

Ass+ Abs 30 Day Challenge

 'Move Your Body' Facebook group

 Move Your Body membership portal with workout videos, recipes etc that change each month

Monthly Live Zoom call

Tutorial Videos

Recipes and Nutrition Advice

Library of Zoom recordings
SMALL GROUP MEMBERSHIP
Weekly individualized small group training (4 sessions a month)

2 LIVE workouts per week (Wednesday and Fridays)

Progress Not Perfection Nutrition Challenge

  ASS + ABS 30 Day Challenge

S

elf guided workout plans, including Smart Strength, Smart Strength 2.0, Fast Fitness, and MILF

'Move Your Body' Facebook group

Move Your Body membership portal with workout videos, recipes etc that change each month

Monthly Live Zoom call

Tutorial Videos

Recipes and Nutrition Advice

Library of Zoom recordings
Why Move Your Body?
Move Your Body prioritizes three workouts per week. You get comprehensive, safe, and effective training sessions that work your whole body, get you in proper alignment, make sure your core is firing, and improve your everyday life. You can achieve and maintain an amazingly sexy, healthy, happy body with just three quality sessions per week. Most of what you've heard about women's strength training is dead wrong, and I'm here cut through the bullshit and help you figure out how to make your fitness + nutrition work for you.
I get it, the fitness industry makes you think you have to workout like crazy and hop on another fucking diet, YOU DON'T.  If you are like most of my clients you want more energy to get through the day and you want to stop feeling like shit in your body. 
"Oh man I really love Move Your Body Live classes because I feel like I move better as a human being because of the way you teach, encourage focus on breathing, change up the exercises, and cue movements (drag the hamstrings, etc.) 
It's not just "do a bunch of squats and get your heart rate up". A lot of trainers just focus on the number of reps/sets for an amount of time… every trainer I've worked with before has been like "just get lower" instead of looking at my whole body and asking me to figure out how to change positions of everything (ribs, pelvis, torso, knees etc.).
What do I get from this that I don't get from other classes? Your exercises are complex and challenging; I've never had another instructor do the bear position and come up with so many variations that keep it from getting stale. I don't feel like I'm just going through the motions and wasting my time doing the exercises wrong."
"I would describe the Move Your Body Live Classes as thoughtful strength training. The only workout that I "feel" the next day, is your work out. I am sore in places that I am not from my others. Also, your workout is the only one that gets me heated up from the inside out. So even though I feel like I'm doing less movement/busywork, I heat up the most from yours. Lastly, I would say my body feels really good after your training. Nothing hurts."
"I could kiss you for opening this monthly online at-home training space! It is exactly what I need right now. I wanted to move some weights around with my body but needed to do it in a way that's gentle enough not knock me on my ass for the day  like most typical weight workouts do. I can do these with my whole family (hubby and kids ages 15, 13, 11, and 8 ) during our morning fitness time and feel like I'm doing something worthwhile. And they LOVE them! These workouts DON'T knock me on my ass; they make me feel strong, energized, and healthy. They will be a big part of my healing journey. ❤️. I feel sooo amazing! I haven't been able to workout in many many months because of my gut infection and autoimmune disease. This approach to working out HELPS my body vs beat my body down. I'm am forever grateful to you and your wealth of knowledge, Stacey. I hope you don't get tired of me repeatedly saying that!"
"Move Your Body Live classes are a space for me to explore and better understand my body alignment and body/mind connection while I exercise, with an informed feedback loop/corrective movement advice from Stacey.I like it because I can exercise and with direction, correctly focus on my body's form and movements. It is a safe space to explore my body's range of motion and work on or ingrain movements that relieve pain.
I feel like I am being more intentional and informed about my exercise… and in turn Stacey instills internal confidence in my workouts and daily movements, reminds me that the goal is to progress at my own rate, encourages me to challenge and develop my strength, and gives me knowledge about my body."
"Move Your Body Live Class Membership provides a few things for me:
Accountability – like the gym, I get up and force myself to be there.  It's ESPECIALLY important in today's climate because we are so isolated and it's so easy to slip.  You can be one of those people who cooks and eats 18 loaves of bread in quarantine a week, or you can invest in yourself.  I choose the latter.
Community – other women, like me, who choose to be there.
Stacey – she puts a smile on my face every morning.
Back to basics – my body had drifted from basics. Stacey trains in a unique way. That has been lost since I moved to NYC.  Now I have it back 🙂
Feel – I feel better.  I sleep better, I feel open and alive.  In my entire life, I think I've only ever left the gym once after showing up.  Once.  I want to feel good, and ESPECIALLY because of the world today."
"I am celebrating my one year anniversary (give or take) working out with Stacey. I was diagnosed with osteopenia at 56 and finally had to bite the bullet on strength training. "I really don't like it, I am too old, I said" and now a year later, I went from 1x per week with Stacey 1:1 to religiously showing up 3x's per week and sometimes 4 (when I do a Sunday drop in). Stacey's caring style, impeccable focus on form (I am a trained Pilates instructor), ability to meet one where they are, and her creativity have me hooked.   I can't believe the progress. I am so much stronger, can crush a squat, and do 3 Turkish get ups per side (what?!). I am so grateful for my 3x's per week Zoom sessions (would still love to be in person), there are truly no excuses and I look forward to starting each of these days with Stacey, some other awesome people, and a workout that helps get me through many more Zoom meetings. Not sure I would have survived the pandemic without Stacey. I won't have another bone density test until next year, but I am pretty sure what it is going to say. "
"When I started training with Stacey had a nagging pain in my hip. I did a drop-in class with Stacey, and she talked to me about how all the yoga I had been doing could make my body unbalanced and lead to these pains, especially coupled with long hours at a desk job.  After working with Stacey for a few months, she had retrained my body so that the pain was completely gone and I had felt stronger than I had in years.  When quarantine started, I was worried I would lose steam, as I am not someone who is good at working hard in an anonymous online class. However, knowing Stacey and the group expected me to show up twice a week has helped tremendously to stay on track and give me accountability. The groups are small enough that Stacey can continue to correct my form, let me know when to get a heavier weight, and also work harder when I'm slacking. I need this feedback!!  I've been able to maintain both my fitness and my sanity during quarantine. For anyone who has a nagging ache or pain like I did and thinks that is something that you just have to live with, you don't, and Stacey can help you! You will also get stronger and feel so much better overall."
See what other's in the community have to say!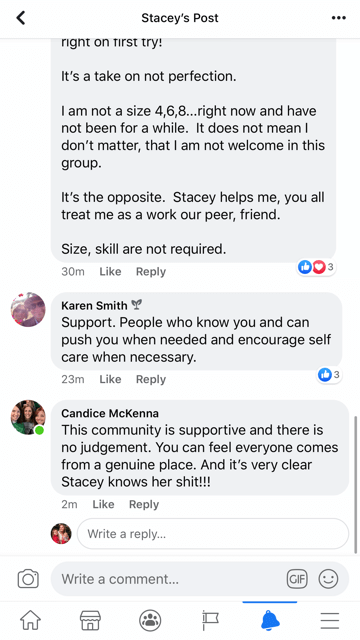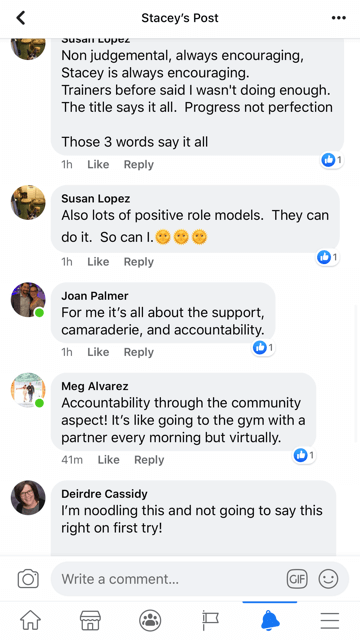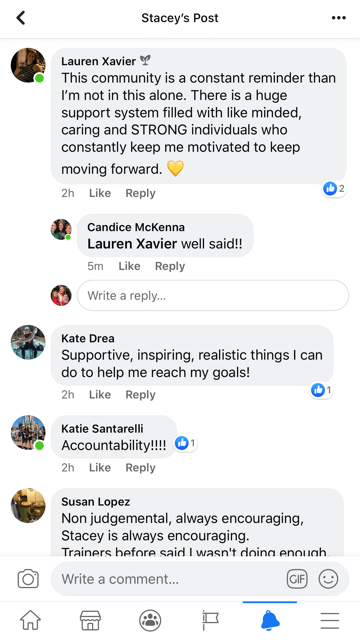 I AM SURE OF A FEW THINGS:
I no longer exercise "just to exercise".
I also don't coach that way.
I will NEVER follow another diet, or encourage another woman to either.
I don't exercise to be so sore in one small muscle that I can't walk. I don't write programs like that either.
I don't focus on the end result of aesthetics or weight.  
That shit feels mindless, PAINFUL and unintentional. No thank you.
Instead I have chosen to teach my clients to establish habits that when practiced consistently get them results and encourage them to enjoy the journey.
Here is my reminder to you that strength training + nutrition… can feel really fucking awesome when it's thoughtful.
The Move Your Body Membership is where…
I teach you how to workout SMARTER + get better results. I combine cutting edge strength training methods with no bullshit nutrition principles and group support to help you find lasting results. Move Your Body is an online coaching community filled with like-minded, kind-hearted and STRONG women who will hold you accountable, ensure that you never feel alone, and lift you up when you need it most.
If you're looking for a kick-ass support system and craving some contact, then Move Your Body is for you.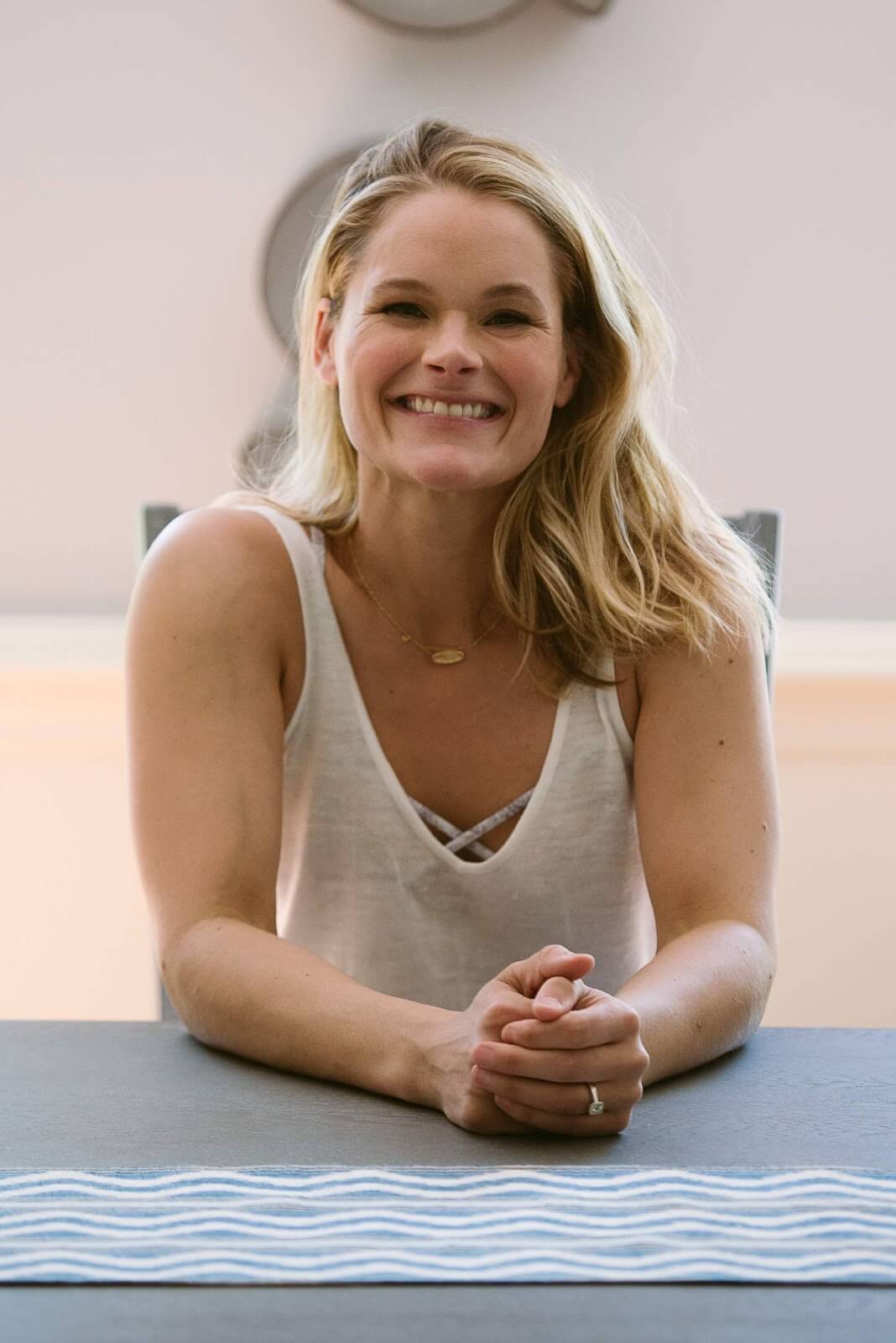 Hey there! I'm Stacey.
Lot's of things have changed since I became a mother, the WAY I exercise and WHAT I consider a "good workout" are two of those things. Women MUST make themselves a priority in order to show up in the world as their best selves.
Let me explain why I'm so passionate about sharing my ever-evolving interpretation of strength training and my progress not perfection approach to eating for life. 
BECAUSE I 100% BELIEVE THAT THIS IS EXACTLY WHAT WOMEN NEED.
I used to use exercise as my outlet. I'd run to escape my thoughts and things that weren't going well in my life. I used dieting as a form of control and then I'd binge and stuff the feelings down deep, punishing myself. Until my body broke down. For the last 12 years I have strength trained to CHECK-IN with my body. I have eaten to TAKE CARE of my body. After having two kids my body felt broken.
I've created a smart strength training program that emphasizes the importance of breathing properly. We focus IN on which muscles are working and HOW the exercises FEEL in our bodies. We gain awareness of how foods make us feel and how to eat in a way that best serves us at any given point in our lives. 
Move Your Body is perfect for all fitness levels who want to workout at home and take the guesswork out of programming. 45 minute workouts get shit done so you no longer have your crazy work/life schedule as an excuse to skip your training sessions. 
Have any questions about Move Your Body or how it can work for you? Email me stacey@staceyschaedler.com
XOXO
Stacey