Progress Not Perfection
30-day Nutrition Challenge
Food should make you feel good and fit into your life, instead of forcing your life to fit into a meal plan. This nutrition challenge combines individualized nutrition calculations for calories and macros (protein, fat, carbs), along with group support. I'm here to cut through the bullshit and help you find lasting results.
What is the Progress not Perfection Nutrition Challenge?
A 30-day challenge that will help you build your own sustainable way of eating through awareness and the establishment of a healthy relationship with food.
We prioritize the importance of being prepared—grocery shopping, protein prep, and meal planning are the most essential exercises of the week.
You'll learn how to eat for your body, eat what you like, and eat what makes you feel good.
You'll receive support from Stacey inside her private Facebook Community, a weekly  Zoom with Stacey, a sustainable eating packet, 120+ recipes, grocery shopping list, meal planning templates, as well as an intro to several of her Move Your Body Programs.
Get support from your fellow group members in an online Facebook community.
The Nutrition Challenge is for you if:
You're feeling out of control with your nutrition and are looking forward to a little structure
You're tired of eating or drinking your feelings
You're sick of yo-yo diets
You want to lose fat and keep it off while still ENJOYING food
You know you can't out-exercise a bad diet and you're ready to get strategic in order to maximize your fat loss results
You're ready for a sustainable way of eating that can work for life—not just a few weeks
What should you expect from the Nutrition Challenge?
Increased energy throughout the day
Lose excess body fat once and for all
Workout less + get better results than you ever thought possible
Fit into your favorite pair of jeans again
LOOK and FEEL BETTER IN YOUR BODY than you have in years
Discover the safest, most effective + sustainable method for losing fat… 
The Progress Not Perfection way!
The results speak for themselves…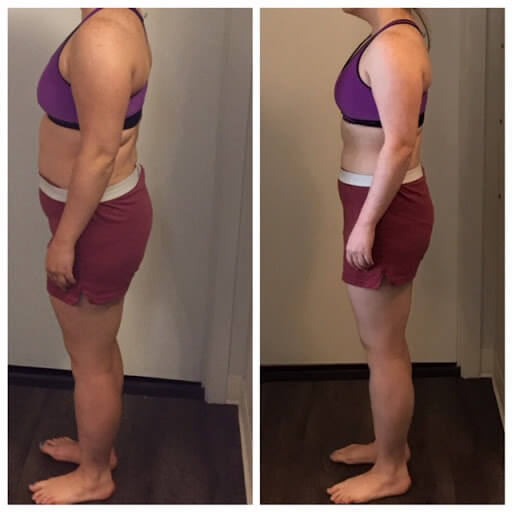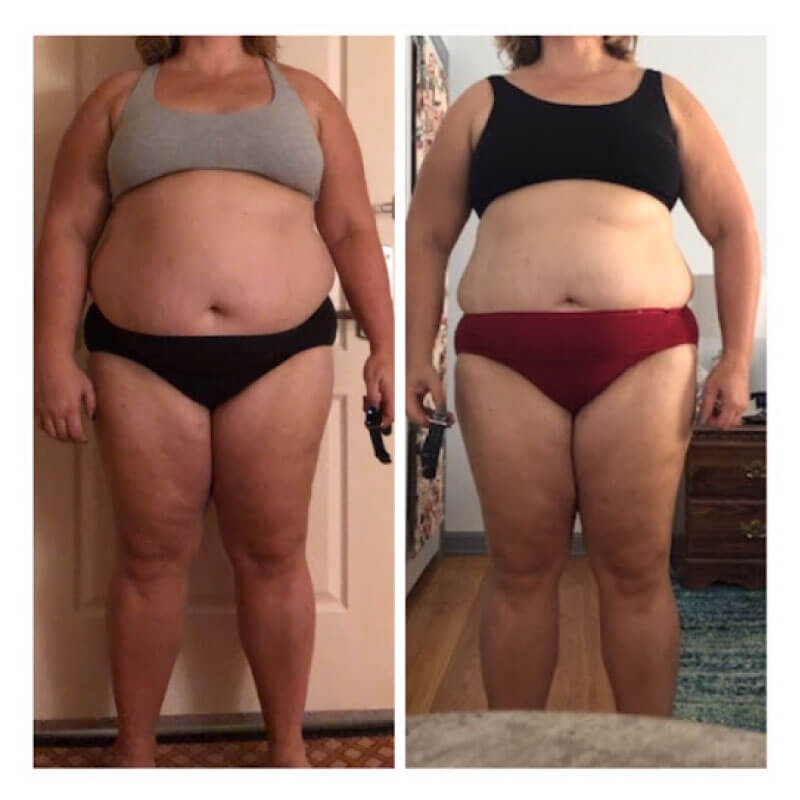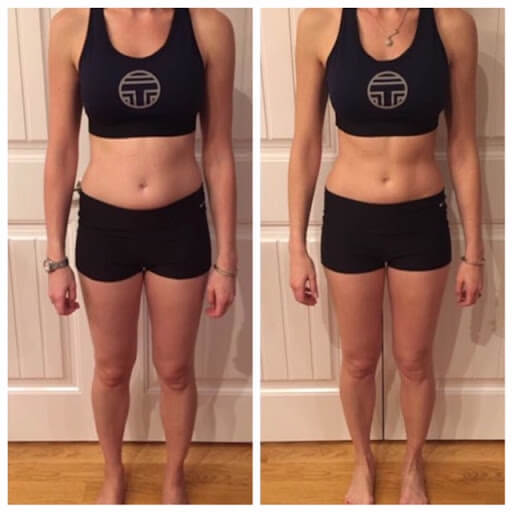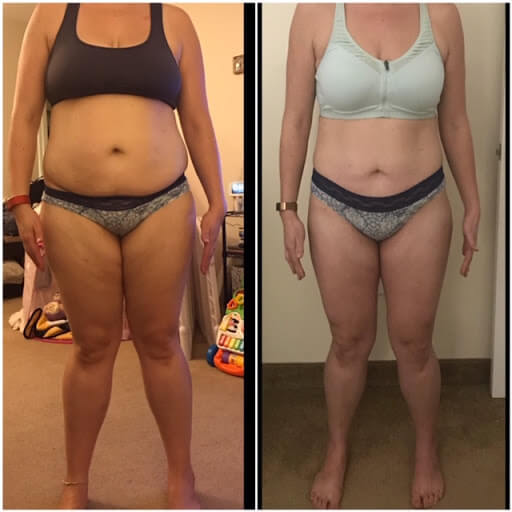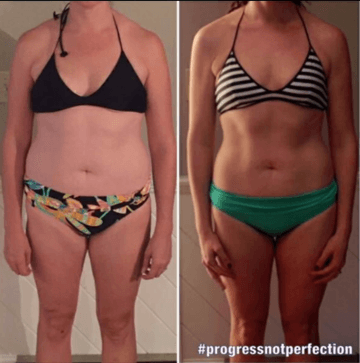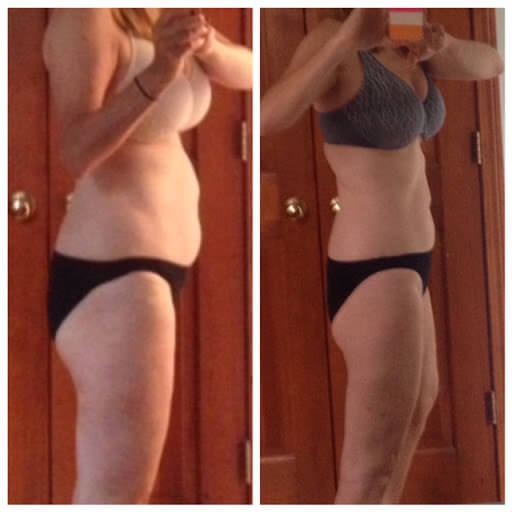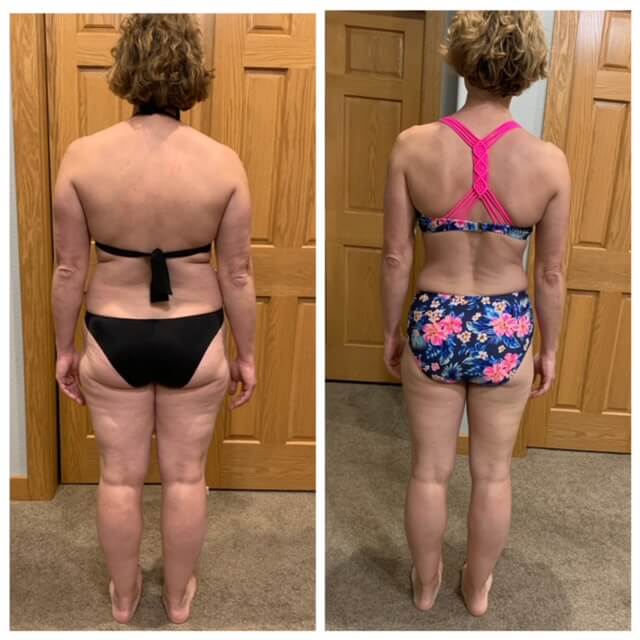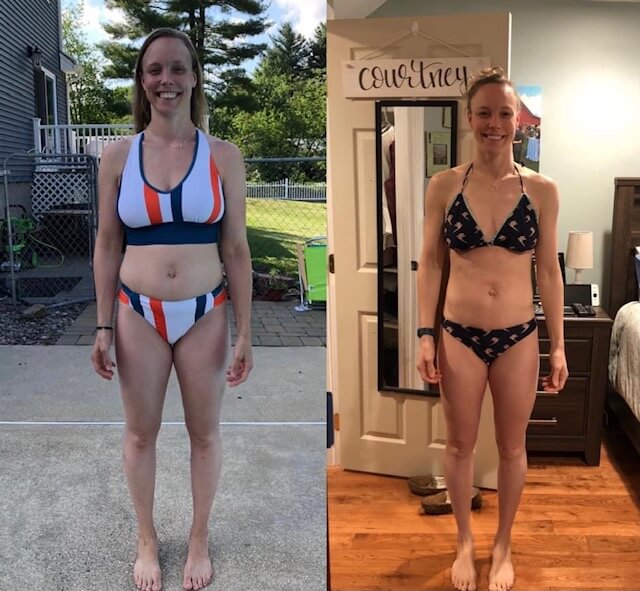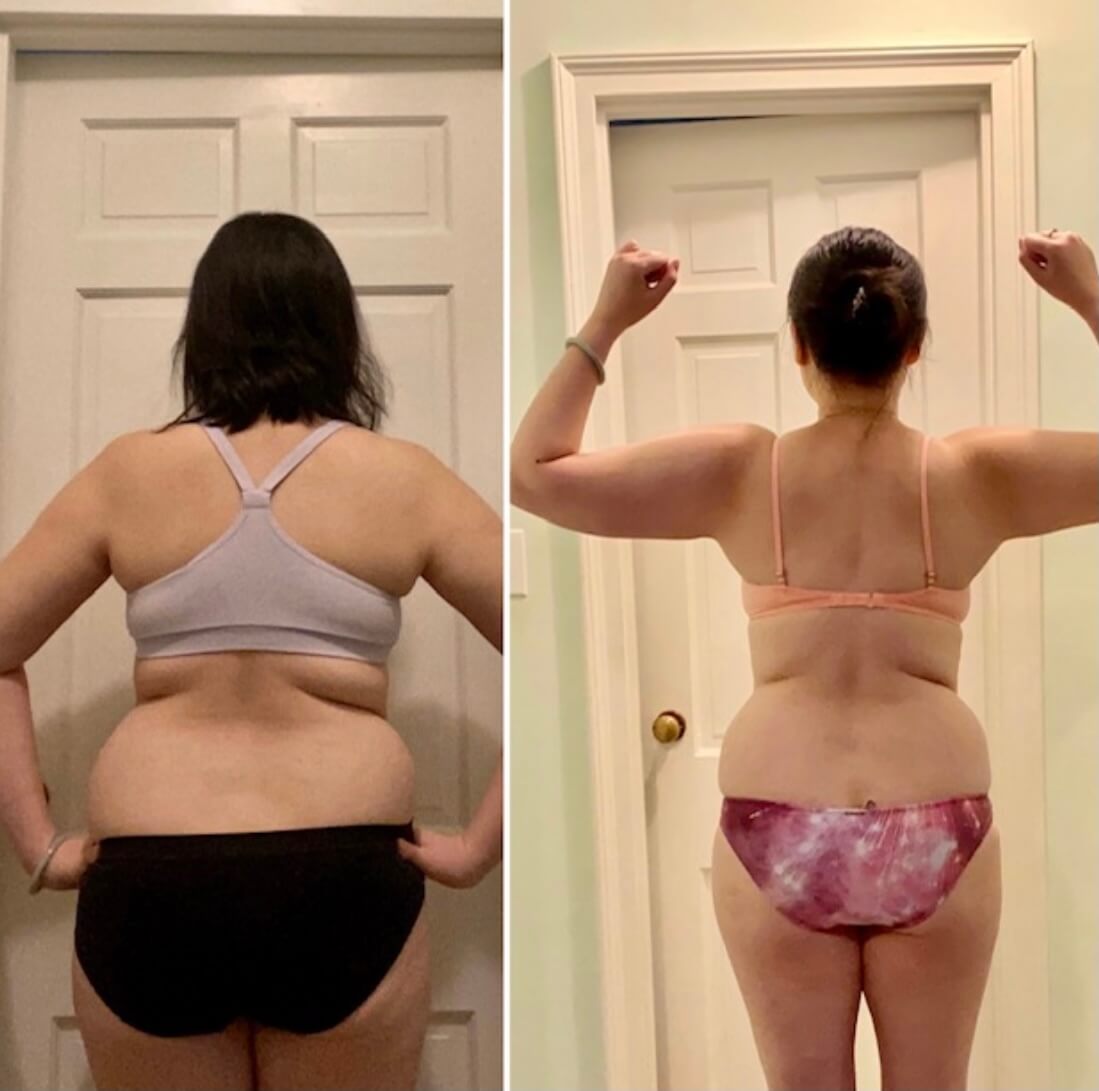 "In this program you will learn how to properly nourish your body, this is not a diet, instead it is a lifestyle change. You will have way more energy from eating to nourish, which then equates to being more active, win-win. I've learned, and will continue to learn, that food is a positive! That 80/20 is so very do-able. Your program gives amazing tools, and with hard work and commitment, I feel the best I've felt in YEARS! The bonus: My 2 teenager daughters are benefiting as well, by seeing what this is doing for me and they are also eating way better…happy Mom equals a happy home….THANK YOU!!!!"
– Erin, 48
Discover the safest, most effective + sustainable method for losing fat…
The Progress Not Perfection way!
Drop your email below and you will be notified when registration for the challenge opens again!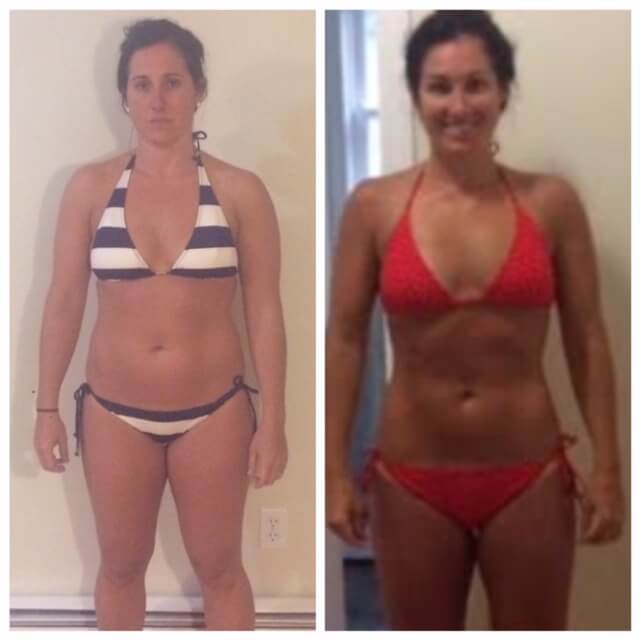 "I cannot tell you how much working with Stacey has changed my life. I have been active all of my life from Division 1 lacrosse to pick up soccer games to Crossfit but I have never been pleased with my aesthetics. No matter how much I worked out!  Most recently coming from the Crossfit world, hitting WODs 4-6 times a week and participating in the paleo lifestyle for 2 + years, I still felt frustrated. Working under Stacey's guidance was so easy since I understood which foods I could use to meet my macros – it's such a Science – something I wouldn't have figured out on my own. What was hard was to believe Stacey was right!!!! She told me to work out only (strength) 3 times a week otherwise just walk the dogs. I lost 10+ lbs, I went from a size 6 to a 4 and finally started to see my strength show through my skin! I PR-ed most of my lifts and still have my lungs to rock my metcons. I have not only gained such an appreciation for my body, but I have gained a huge amount of knowledge from Stacey.  Lastly, I have gained the gift of TIME – I now don't feel obligated to live at Crossfit to FIX my body (which never worked) – I now spend more time with my hubs biking, SUP, pickle ball or just taking a walk with the pups! OR taking a rest because I feel like it!!! For the first time in years I feel comfortable in my body!!! Working with Stacey is the BEST thing I have done for myself in a LONG TIME!!!!"
– Tonya, 37
Crossfit Enthusiast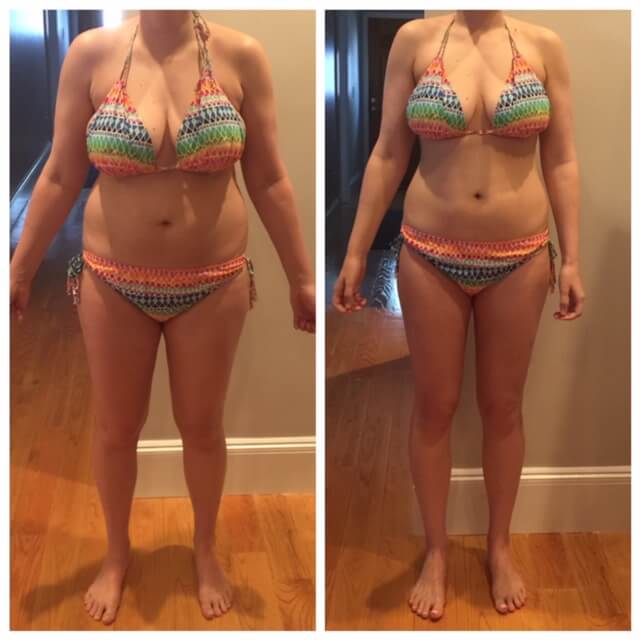 "I've lost 20 lbs Wahoo! Progress not Perfection Nutrition coaching has been amazing. I am such a total and true believer! You told us back in January to find a pair of jeans that didn't fit and use them as a gauge of progress. I had an old pair of skinny jeans from J Crew that are a size 29 that I always loved but haven't fit into since like 4 years ago. At the beginning of the program, I couldn't even get them on and periodically tried them to see how my progress was. They're not the stretchy or forgiving kind of jeans. Well, I decided to try them out tonight on a whim and they fit perfectly!! And to top it off, I bought this really nice dress from Tory Burch (way on sale of course) for my rehearsal dinner a year ago (and took a risk and bought a smaller size with the hopes I could eventually fit into it) and tried it on today too and it finally fits! "
– Meghan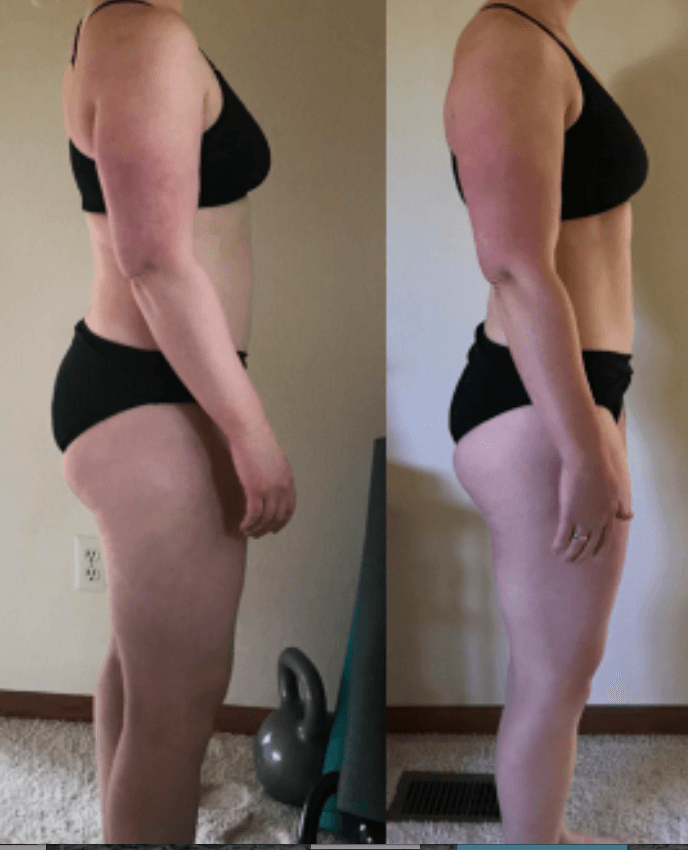 "From your nutrition coaching and custom guidance I'm down 12lbs, feeling stronger in my workouts and more satisfied with eating than ever before. Also, today I deadlifted 185lbs for 3×5 and it felt aaaaamazing! Just wanted to say THANK YOU! I wish I lived near you so I could join your lifting groups too haha! "
–
Amanda 33
Mama+ Web Designer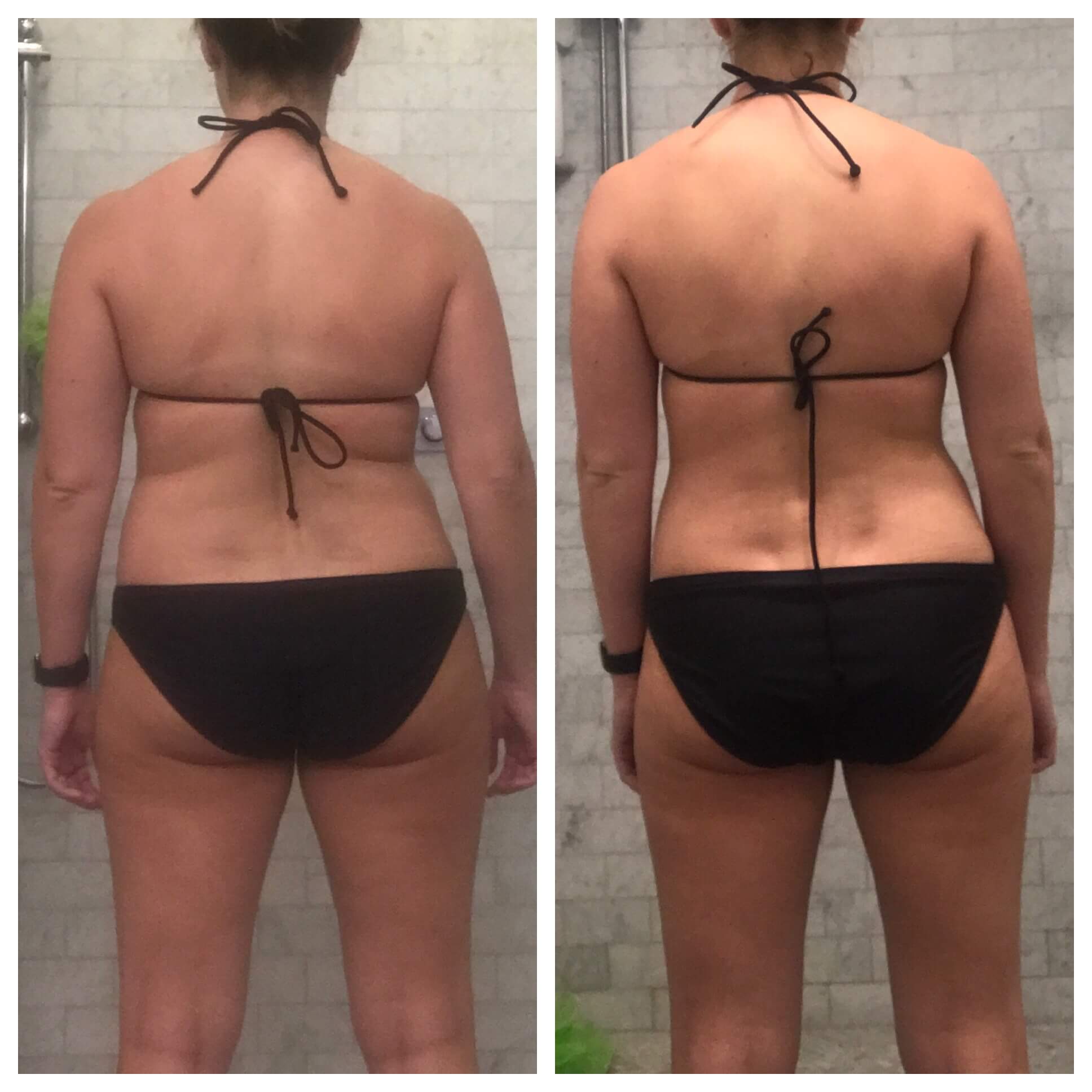 "First things first. WEIGHT: 137.1 pounds.
WHAT!  What a f'ing difference 16.9 pounds makes on your body, omg. I feel healthier than I have felt in a long, long time. And basically feel ready to take on the world. :)After years of guessing about what I was eating, how many calories I needed, which diet to try, and honestly a very emotional relationship with food that I don't think I realized until now, I finally feel stable and confident that what I am taking in every day is fueling my body in the way it needs. I would absolutely recommend to a friend favorite is realizing I only need to strength train a few times a week instead of every day. I'm more obsessed with my strength than the number on the scale. I can't thank you enough for your help, literally life changing 🙂 "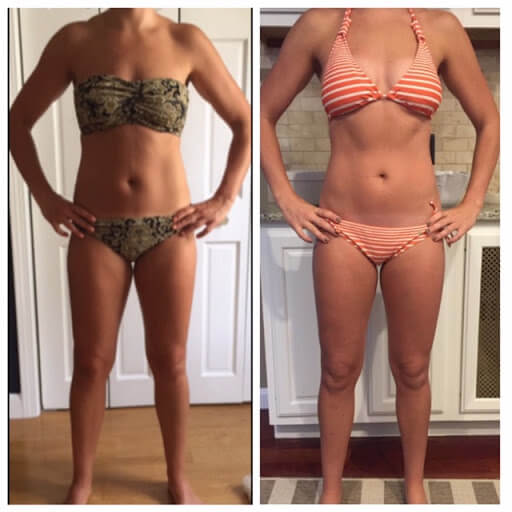 "I feel the most comfortable in my skin I've ever felt. I used to cardio, cardio, cardio just about everyday for 1-2 hours with little to no strength training. I have seen greater results, with less working out! The guilt I felt on days that I don't work out has been alleviated and it feels nice to be in control of my nutrition, without feeling obsessive or restricted. This entire process has been so liberating! In total, I've lost about 5 pounds, but more impressively are the inches I've lost! No wonder my clothes fit better! I'm also enjoying the definition I'm seeing more of. Not to mention, my increase in energy levels.Thank you so much for everything! I have learned a lot about nutrition, and even more about myself. I would recommend you to anyone and everyone! "
– Gabrielle, 36  Nurse + Mama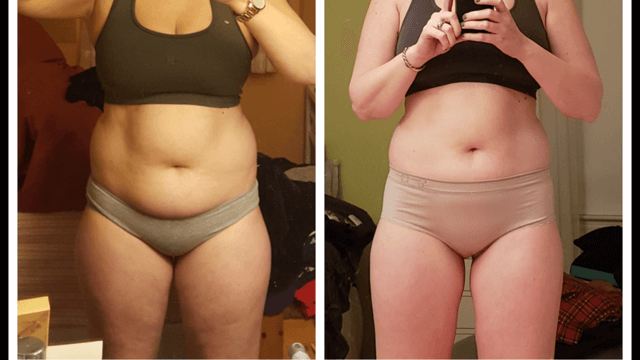 "I love this program. At it's core, this program is awesome because it is REAL. It's a way of looking at your life and your relationship with food that will last and not just a pit stop in your quest to get healthy and lose weight. Stacey is the most authentic person I have ever met and she relates so well to her clients because she shares many of our same journeys and frustrations. She is relatable and while the concepts behind her coaching are simple, does not for one second act like this process is easy. She emphasizes that anything good and worthwhile requires hard work, consistency and patience. There are no empty promises. There is community and support. Progress not Perfection Nutrition Coaching is amazing for anyone looking to reevaluate how they feed their body, think about food and live life to the fullest. I plan on implementing everything that I have learned from this group into my day-to-day life so that I can feel better in my body and about my body."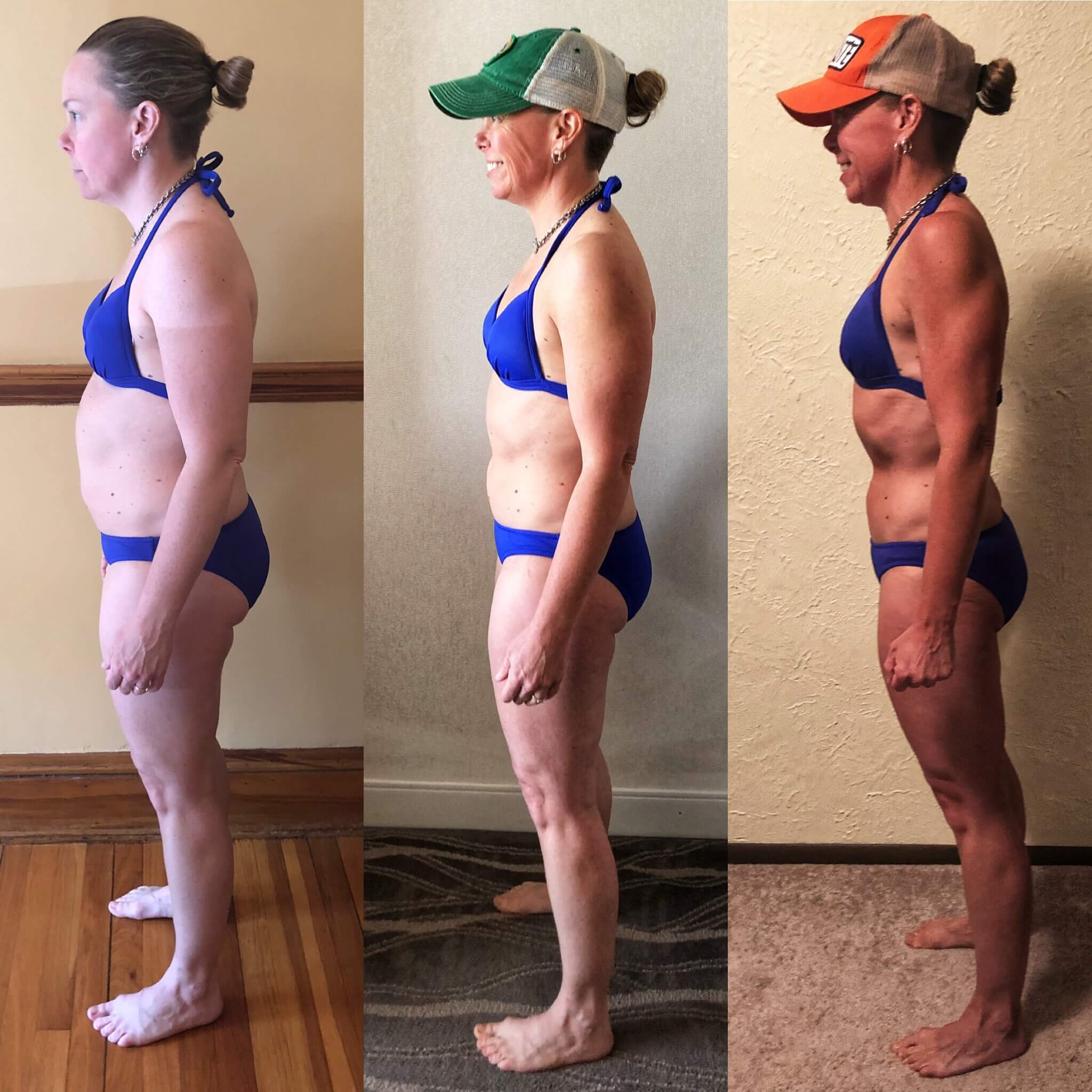 "This program has been the ONLY thing that has helped me motivate, follow through, and succeed in losing the weight and training to get my body back (and with it, a large part of my self esteem). Since being placed on certain medications, I had gained almost 30 pounds and was entirely unsuccessful in losing the weight, despite actually trying. The cravings were my downfall and I wasn't sure how to get past them. I felt the worst I'd ever felt about myself physically and was truly ashamed. Participating in this program has allowed me to finally break the cycle. I enjoy eating healthy, the cravings are almost nonexistent, and this week I reached a milestone moment – for the first time in a year I am under 120 pounds! My clothes fit better, I have more confidence, and I am getting stronger."
– Terri, 44  Nurse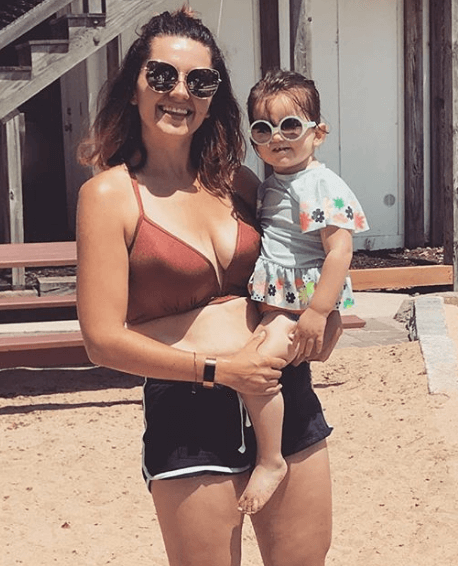 "Before I met Stacey, my view on exercise and nutrition had been the same my whole life – exercise more and eat less. Since elementary school, I've always struggled with my weight. I would go through cycles where I would walk on a treadmill 5x a week and just eat salads, drink coffee/Red Bull, etc. I would lose weight, but couldn't maintain the lifestyle for very long without being burnt-out, starving, and exhausted, and would then go through bingeing periods eating everything in sight because I had been depriving my body of any real nutrition. I started strength training with Stacey in January 2017, when my daughter was 8mos old. I was a tired new mom in need of a workout routine that I could do from home and that didn't require so much of my time (since you have 0 extra time with a baby anyway). Smart Strength was my answer; lifting weights doesn't just make me feel physically strong, but also mentally. I feel so empowered as a woman, and I love when my daughter tries to exercise with me (do weights like mama!). In September I started her nutrition program, learning what the hell macros are, and that protein is the key to it all. About a month later, my mom unexpectedly passed away. It was, undoubtedly, the worst time of my life. Somehow instead of reverting back to old, poor habits, I managed to try and stay on course. I realized that even though I can't control the bad shit that that happens around me, I can control ME. Numbers don't mean much compared to how you feel (both mind and body) but it does feel pretty damn good to weigh 70lbs ( YES SEVENTY POUNDS ) less than when began my lifestyle change, AND to be able to enjoy the summertime in a two piece I will forever be grateful to Stacey for her guidance, encouragement, and wisdom throughout the process. I've learned so much over this past year and a half, but even more importantly to me, I've gained an amazing friend. :)"
– Chantal, 33
Mama & Teacher
"I feel better, less bloated, my reflux/GERD symptoms are under better control. I have more energy ,most importantly, following the program has changed my relationship with food. I know where I have wiggle room for a treat and I don't sweat one piece of chocolate or one bad day. Most importantly, this is sustainable, even for someone who is on the road 80% of the time. Plus the group support is what helps put all the negative, circular thinking in perspective. I see no negatives. "
– 
Arpita, 48  
Scientist
"What will happen if YOU join? An incredible sense of freedom, without loss of control! A huge mindset change that comes with real physical results! "
– 
Ami, 42 
"Today, I am down 13 pounds from where I started and I couldn't be happier. Everyone at my wedding was GUSHING over how great I looked and begging to know what I had been doing. "
– 
Katie, 28 
"I had been going to Weight Watchers for 10 years and was a Lifetime member. I had lost weight and had kept it off most of those years, but as I was going through menopause, I had put some weight back on and it was all in my stomach area, and couldn't lose that fat no matter how hard I tried, and oh I tried. I would do cardio at the gym for at least 1 hour three times a week if not more, only eat my "points" that I was allowed and really never eating enough, and never, never, enjoying myself with food like I saw so many of my girlfriends doing, I thought there must be something wrong with me. My daughter suggested I talk to Stacey and that she thought she could help me, well not only did she help me, she gave me hope that I could definitely lose that stomach fat and I could really enjoy life. She is the only one that had a solution to middle age spread, not any of my doctors! I have lost 7 lbs, and have lost that stomach fat!!!! I feel like I've lost more but it's also the inches, and I feel great in my NEW CLOTHES!I don't have the anxiety about getting older and having to look frumpy, because I know with the way I'm eating, it will never happen again! I've also started working out with Stacey and I feel strong and confident that I can do anything. Thank you for my new slimmer no belly body! "
– 
Patty, 69 
When does the next program start?
The next program starts on Monday January 17th, 2022
When does the program open for sign up?
We will open January 11th for sign up!
When does the program close for sign up?
Sign ups will close Sunday January 16th.
How long does the program run?
My Progress Not Perfection Nutrition Challenge runs for 30 days.
How much does the program cost?
Is this program appropriate for vegetarians?
This program is not designed specifically for vegetarians. However I have had several vegetarians have major success with the program. As long as you are open to eating other protein sources such as fish, tofu, dairy, and/ or supplementing with a pea/hemp/rice protein you will have no issue 🙂
Are there men in this coaching program?
Quite a few men have joined with their wives and had a great time learning and completing the program together.  I just happen to have more of a female following! 
Do you need a Facebook account?
Yes. But you do not need to share funny exercise fails or dive into other people's political rants. You can simply create an account for the duration of the program, not friend anyone, and only access the group. You can even make a fake name.
Is this program online or in person?
This program is all online. There is an amazing community through Facebook + Zoom where we share recipes, ideas, feelings, progress, and more. The community is like NOTHING I have ever been a part of.
What if I'm new to tracking food?
You are going to be tracking your food for all 30 days. Tracking creates awareness!
I have tried other fat loss programs and had no success, is this program right for me?
YES, Progress Not Perfection Nutrition Challenge is all about increasing awareness with regards to how YOUR body responds to food. Whether you are an athlete, overweight + sedentary, a new mom, looking to increase energy and health, or just looking to lose the last 5lbs… THIS PROGRAM IS FOR YOU.
What do I need in order to sign up for this program?
Patience, a positive attitude, consistent action, and trust in the process.
How much time do I need to commit to this program?
Expect to check into the Facebook group for 10-15mins 1x per day. In addition you will spend time grocery shopping, preparing your protein, as well as tracking your food (this gets easier the more you do it).
What do I get when I sign up for this program?
The Progress Not Perfection Online Nutrition Challenge includes:
Grocery shopping list

120+ recipes

Plug and Play method for sustainable eating

Customized macronutrient (macro) numbers

Templates: Meal planning + workout schedule

Access to Move Your Body Membership + all of Stacey's DIY Programs including Smart Strength, Fast Fitness etc. 

Community-based Facebook accountability group
Self-reflection journaling questions

Support from Stacey  via w

eekly Live Community Zoom meeting
Does this program include a meal plan?
F*CK NO! With coaching tools and personal preferences YOU will learn to eat what you like once and for all 🙂 I have sample meal plans that show you how to plug n play!
Why should I join this online nutrition challenge when I could simply follow a cookie cutter plan from the internet?
The difference with PNP Online Nutrition Challenge is that your calculations are customized. Together we can create a way to eat for life, taking your food preferences, allergies, and intolerances into account. I will NEVER tell you what, or what time of day, to eat or NOT to eat.
There are SO many online nutrition challenges out there, what makes this so special?
The community, accountability, individualization, and sustainability of the plan you establish!
I still have questions, how can I find out more?